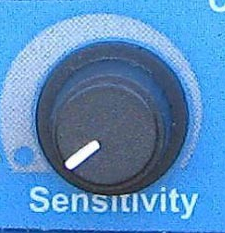 The new management of the Church of Scientology has been modifying LRH references about the basics of auditing since 1972 so that the tech is more and more non-working.
An example for this is the handling of the e-meter. The Snr C/S from the Berlin Org A.Z. was on his class VI course when the new pro-metering GAT course was published at the end of the 90s and he had to repeat it. He spent 9 months on the course! The Cl. 9 Caspar de Rijk reported that the Snr C/S AOSH EU in Copenhagen still had insecurities with his meter handling even after the RTC pass regarding instant-reads: She had to watch session videos several times to de- cide whether or not an auditor had judged an instant-read correctly or not. The auditor does not have this option during sessions. Thus, it is of course pure nonsense to judge an instant read by hundreds of seconds.
Furthermore, RTC ascertained with the e-meter-exercise 5RB that the sensitivity is often set wrongly. The fact that something is wrong about this revision of the original e-meter-exercise 5 can be recognized immediately because the original EM-5 has nothing to do with sensitivity. It was also about can squeesing but rather to find out which Havingness process is best suited for the PC!1)Quote from "The Book of E-Meter Drills", New Edition 1968, EM-5: "Purpose: To train a student auditor how to get an accurate can squeeze which correctly indicates the preclear's current state of Havingness and state of case." The sensitivity-setting was not cancelled with the EM-5 in the past!
The change was introduced with the HCOB February 7, 1979. Last revised 1988 with a lie in the end that this exercise has been developed by LRH in December 1963. In December 1963, Ron had developed the original EM-5 in order to find the Havingness process. This drill simply got lost during the revision.
Us Free Scientologists rehabilitate the original EM-5 and all other subsequent versions are can- celled. Instead, for the training of the sensitivity setting, we use an original, unrevised HCOB March 18, 1974 E-METER – ERRORS IN SENSITIVITY. This reference, of course, has also been messed up as I have presented in FSB 30.12.14 VOM GEGNER SICHERGESTELLT: UNSERE PROBLEME MIT DER E-METER-EMPFINDLICHKEIT (will be translated).
Therefore – and also according to former references2)
For example see
• Electropsychometric Auditing – OPERATOR'S MANUAL in Red Vol 1
• E-Meter Essentials in its pre 1979 version
• HCO BULLETIN OF 10 FEBRUARY 1960 BRITISH E-METER OPERATION
• HCO B 1 MARCH 1964 METER READS, SIZE OF
• HCO BULLETIN OF 11 FEBRUARY 1966 FREE NEEDLES, HOW TO GET THEM ON A PC
• HCO BULLETIN OF 21 OCTOBER 1968 FLOATING NEEDLE
• HCO BULLETIN OF 3 JULY 1971 AUDITING BY LISTS REVISED – the sensitivity is simply adjusted during a session like this: the auditor sets it higher when he notices that he would otherwise overlook signs and he sets it lower if he is too busy keeping the needle on the scale. You just have to find the happy medium.
Experience shows, however, that the sensitivity is different from PC to PC but it stays the same in one PC for months3)"the sensitivity knob always being set the same, session after session." HCOB 26 Aug. 60 REGIMEN TWO. Thus, there is no necessity to recheck the sensitivity at the beginning of each session.
Of course there are situations within a session where you want to set the sensitivity higher so to not miss a read: rudiments, assessments, etc. – There are a lot of LRH references4)For example see
• HCO BULLETIN OF 28 JULY 1958 COMMAND SHEET FOR HGC – CLEAR PROCEDURE
• HCO BULLETIN OF 27 OCTOBER 1960 REVISED CASE ENTRANCE
• HCO BULLETIN OF 15 DECEMBER 1960 PRESESSION 37
• HCO BULLETIN OF 18 FEBRUARY 1961 S.O.P. GOALS that indicate to do this.
If you are interested in more details about this topic, you are welcome to read my extensive study5)..\AGs Auswertungen, Zusammenstellungen\AGs Studie über die E-Meter-Empfindlichkeit.doc in which all LRH references about sensitivity are cited.
Enjoy
Copyright © 2014 by Dipl.-Ing. Andreas Gross All Rights reserved
Andreas Gross
for the
Independent Scientologists